TESTEO was recently inaugurated as the first integral living laboratory for sustainable construction in Colombia. Until now, construction laboratories were only able to test materials and structural elements and it wasn't possible to do a comprehensive analysis. The new TESTEO lab, located in Santander, allows for dynamic analyses in which the layout and distribution of areas can be modified.
TESTEO was designed by the Sustainable Construction and Circular Economy project of the Colombia + Competitiva programme, together with the companies of the Santander Construction Cluster.
The new living laboratory will offer the industry an environment to conduct experimental scenarios, which will help to reduce failures in construction processes and give rise to innovations.
The NeighborHub, a Smart Living Lab project in Switzerland, served as a role model for the lab in Colombia.
Yvonne Baumann, Swiss Ambassador to Colombia, on the relevance of sustainable construction:
"From Switzerland, we recognise the impact that construction has on the use of natural resources and greenhouse gas emissions. That is why we work hand in hand with our partners in Colombia to promote innovation for sustainable construction. This laboratory is an example of how the joint coordination between the private sector and academic sector can contribute to green growth in the country."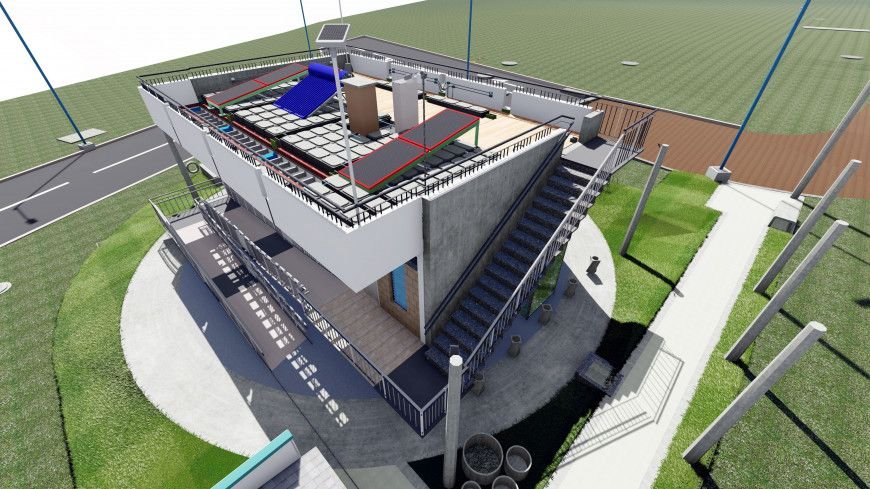 Experiments for sustainable construction
TESTEO is built as a prototype of a single-family housing type (house), scalable to multi-family building and containing flexible spaces. The underground structure includes tanks to manage and treat different water sources as well as a grey water treatment plant.
This new lab makes it possible to test different materials and simulate a number of climatic and architectural variables, which will faciliate the development of sustainability indicators. Its modular structure is designed to be able to be moved into eight different spatial positions.
The purpose of TESTEO is to promote projects in the field of research, innovation and technological development in collaboration with the academic, public and private sectors. In addition, the lab creates an environment to develop technical training in disciplines related to sustainable construction.
Important attributes of the TESTEO living laboratory include:
Modular and scalable system
Systems for the efficient use of water and energy resources.
Recycled and/or recyclable materials
Implementation of Building Information Modeling (BIM) methodology
More information on the Sustainable Construction and Circular Economy project is available in Spanish on the project's website. Colombia + Competitiva is a programme of the Swiss State Secretariat for Economic Affairs SECO and is facilitated by Swisscontact.